Goodbye London, Hello Gaborone: De Beers Sales Head To Africa
Top London banker's effort to clear name nears end
"I have been coming here some ten times a year for 35 years, I have missed only two or three sights. It is part of our routine," says Tannenbaum, whose Leo Schachter group, founded in New York and now headquartered in Israel, is a major manufacturer of polished diamonds. But this week's sight is De Beers' last in London. From now on, the action will be in Gaborone, dusty capital of Botswana. The office allocated to Tannenbaum's firm, his dedicated De Beers contacts and the black-and-yellow attache case stacked with clear plastic bags of diamonds will move south along with the whole of the company's sales operation – 85 out of 300 London-based De Beers employees. The 2011 decision to move – which will cost more than $120 million, including shiny new offices in Gaborone – follows years of negotiations between Anglo-American-owned De Beers and Botswana, the largest producer of gem diamonds and home to mines like Jwaneng, the world's richest. The move secured a new 10-year contract for the sorting, valuing and sales of diamonds from the Botswana mines run by Debswana, a 50:50 joint venture between De Beers and the southern African country's government – the longest sales contract agreed to date between the two sides. It will shift more than $6 billion of annual rough diamond sales from an international financial centre to a comparative backwater with a population of 230,000, in one of the most dramatic examples of a producing country battling successfully to keep value and profits from the raw materials at home. The change will test Botswana's ability to develop skills and services, lower an unemployment rate stuck at roughly 18 percent and diversify an economy still dependent on diamonds for more than 80 percent of exports. By separating sales from corporate headquarters, the move is also arguably the biggest challenge De Beers has faced to the way it does business since the current sales model was set up nearly a century ago to secure its then-dominant position. END OF AN ERA The shift south, long expected in one form or another, raises practical questions – visa difficulties, a lack of direct flights and suitable hotels – but has also sparked a debate around the future of De Beers and its role in the gem market. Still the world's largest producer by value, De Beers was taken over by Anglo American in a deal completed last year which bought out the Oppenheimer family, cutting direct links to the dynasty that ran the firm for almost a century.
In a written closing statement, his lawyers added the recipient of the information – a Kurdish minister and oil industry veteran – "understood his responsibilities in relation to potentially sensitive information". OPENING THE FLOODGATES Hannam was accused in 2012 by the then FSA of sending two emails in 2008 on behalf of a client, Heritage Oil ( HOIL.L ), which included what the regulator considers "inside" information – on a potential takeover and on a potential oil discovery. No-one traded on the information in Hannam's emails and the regulator did not remove his "fit and proper" status, required for working in London's financial sector. But the regulator, which has sought to make an example of a banking heavyweight, argued on Thursday there should have been a clear need to disclose, as well as clarity that the recipient of the messages, in this case Kurdish minister Ashti Hawrami, was aware of the need for confidentiality. Lawyers for Hannam, who was disciplined by JPMorgan in 2009, around the time the FSA began its investigation, have consistently argued he was doing his job in attempting to secure a deal for his client, Heritage. "Mr Hannam's objectives in sending the email – to galvanize the minister's interest in a deal with Heritage and to create a window of opportunity in which to act – were perfectly proper ones," they said in the closing statement. But partly due to Hannam's candid admissions, that argument has fuelled debate over what it is legitimate for a banker to do and say, and whether even a partial truth is inside information. "I either made it up or I was putting a spin on it to get a meeting (with the minister)," Hannam told the tribunal in July of takeover talks revealed to the minister in one of the emails. But acting for the client, the FCA argued, is not an excuse. "It opens the floodgates to the disclosure of insider information," Richard Boulton, leading lawyer acting for the FCA, told the tribunal on Thursday. Hannam's appeal is a high-profile test for the newly minted FCA's tactic of targeting big names to fight market abuse, following the strategy of U.S. watchdogs. Rebuilding his reputation, meanwhile, is critical for Hannam, who is building up a gold venture in Afghanistan and an advisory firm Strand Partners, which includes some of the JP Morgan team who were among the most influential in the sector. (Reporting by Clara Ferreira-Marques; Editing by Erica Billingham and David Evans) @yahoofinance on Twitter, become a fan on Facebook Related Content Chart Your most recently viewed tickers will automatically show up here if you type a ticker in the "Enter symbol/company" at the bottom of this module.
Footballing icons 'rename' London's Underground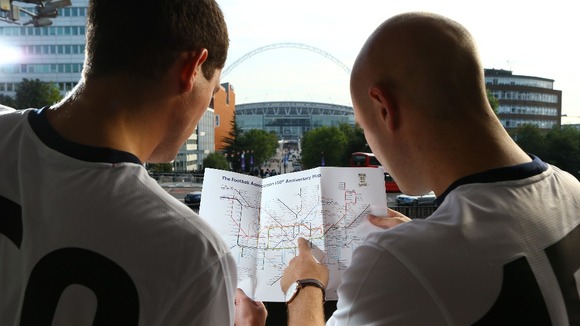 Working under the direction of Crossrail's archaeologists, the construction workers carefully removed the human skulls and Roman pottery, found in the sediment of the historic channel of the River Walbrook. The skulls were found below the Bedlam burial ground established in the 16th century, where 3,000 skeletons will be carefully removed during major archaeological excavations next year. For safety reasons, the archaeologists have had to leave the archaeology work to the tunnellers as the skulls were up to six metres below ground. Roman skulls have been found along the historic Thames tributary the River Walbrook throughout London's history. This led to speculation they were heads decapitated by Queen Boudicca's rebels during the rebellion against Roman occupation in the 1st century AD. However, later archaeology suggested that the River Walbrook possibly eroded a Roman cemetery under Eldon Street in the Liverpool Street area and the skulls and other bones had been washed downstream. The latest skulls were located in clusters indicating they were caught in a bend in the river. The location of the skulls indicates they were washed out of the burial ground during Roman times. Lead archaeologist Jay Carver said: "This is an unexpected and fascinating discovery that reveals another piece in the jigsaw of London's history. "This isn't the first time that skulls have been found in the bed of the River Walbrook and many early historians suggested these people were killed during the Boudicca rebellion against the Romans." He went on: "We now think the skulls are possibly from a known Roman burial ground about 50 metres up river from our Liverpool Street station work site. Their location in the Roman layer indicates they were possibly washed down river during the Roman period." The tunnellers have also discovered wooden medieval structures believed to have been part of the walls of the Bedlam burial ground. The Museum of London Archaeology will analyse the finds over the coming months and hope to find out more about the age, sex and diet of the people associated with the Roman skulls. Also on HuffPost: Loading Slideshow Woolly Mammoth Uncovered In Siberia Goes On Display In Japan An extraordinarily well-preserved woolly mammoth uncovered in Siberia was revealed to the public for the first time this week in Japan. While the baby female is not the first mammoth to be recently dug up in the remote region of Russia, what makes this find so special is the extent to which the animal's carcass is still intact.
London Archeologists Discover Roman Skulls On Crossrail Site
To celebrate 150 years of both, they've created a limited edition tube map, which swaps the 367 Tube, DLR and Overground station names for those of football greats. Players appear at stations relevant to their success Credit: London Underground/FA A number of the past and present footballers appear at stations with special relevance. Leytonstone marks the place of David Beckham's birth, Arsenal is changed to the club's England midfielder Jack Wilshere and Upton Park becomes 1966 World Cup-winning captain and West Ham United great, Bobby Moore. David Beckham lends his name to Leytonstone Credit: Dominic Lipinski/PA Each tube line represents a different footballing 'category' Credit: London Underground/FA Below are the stations with particular relevance to the given names: Denmark Hill – Peter Schmeichel, Former Danish international Highbury & Islington – Dennis Bergkamp, Arsenal legend New Cross Gate – Tim Cahill, Former Millwall favourite Norwood Junction – Attilio Lombardo, Former Crystal Palace favourite Crystal Palace – Mile Jedinak, Current Palace star Queen's Park – Pavel Srnicek – Former QPR favourite Wembley Central – Eric Cantona, FA Cup Winner at Wembley North Wembley – Nicolas Anelka, FA Cup Winner at Wembley (and scored twice for France v England) Shepherd's Bush -Rodney Marsh, QPR legend Lancaster Gate – Sir Bobby Charlton, England legend/Former FA Councillor Totttenham Court Road – Jimmy Greaves, Tottenham legend Liverpool Street – Ian Rush, Liverpool legend Leytonstone – David Beckham (place of birth) Newbury Park – Mick Channon Fulham Broadway – John Terry, Chelsea legend Putney Bridge – Tony Gale, Former Fulham favourite Wimbledon – Andy Thorn, Former Wimbledon favourite St. James's Park – Joe Harvey, Newcastle legend West Ham – Billy Bonds, West Ham legend Upton Park – Bobby Moore, West Ham legend Watford – Graham Taylor, Former Watford manager Wembley Park – Sir Alf Ramsey, World Cup-Winning manager at Wembley Tooting Broadway – Alex Stepney, England goalkeeper started career at Tooting & Mitcham United South Wimbledon – Dave Beasant, Wimbledon legend Arsenal – Jack Wilshere, Current Arsenal star Finsbury Park – Theo Walcott, Current Arsenal star St. John's Wood – Ian St. John Woolwich Arsenal – Eddie Hapgood, Arsenal Legend. Credit: London Underground/FA "Football and London Underground have always been closely linked – from the early days of the game, to jubilant fans travelling to and from Wembley on the Jubilee line and the hundreds of thousands that use the network to get to games every weekend today." Phil Hufton, Chief Operating Officer of London Underground Credit: London Underground/FA Players capped more than 100 times are specially marked Credit: London Underground/FA Players who have been capped more than 100 times for England including Rachel Yankey, Peter Shilton and Steven Gerrard, are marked with special icons, as are England players with more than 40 goals, including FA150 ambassador Michael Owen and Gary Lineker. The map also singles out those who have won five or more FA Cups – such as Ashley Cole and pre-war players Jimmy Forrest and Charles Wollaston. It also includes symbols to show those who have been Knighted – Sir Geoff Hurst, Sir Trevor Brooking, Sir Walter Winterbottom and Sir Alf Ramsey – or are a Peer of the Realm, like Arthur Kinnaird. The map marks 150 years for the London Underground and the FA Credit: London Underground/FA "Creating this special version of such an iconic map is a fitting way for The FA and London Underground to mark its shared 150th anniversaries. With the map featuring so many greats from the history of the game, it is sure to generate huge debate amongst fans as well." Alex Horne, General Secretary of The Football Association The map was collated by the Football Association's historian David Barber. Early drafts were shared with notable football writers and commentators, with the aim being to create a list that truly celebrates a century and a half of the nation's favourite game.
Chinese billionaire plans to rebuild London's Crystal Palace
"This is going to recreate a 21st century version of the palace," London Mayor Boris Johnson told reporters. "This isn't an act of nostalgia. It is looking forward and it is about adorning our city with a world-class structure." The 180-acre park, where the palace once stood and includes the original terraced steps, is currently home to an amphitheatre that once hosted reggae singer Bob Marley, a national sports centre and a collection of giant dinosaur sculptures, which also date from the 1850s. If the proposal goes through, it would be another example of China's growing appetite for investments in Britain. A Chinese firm signed a deal this year to convert London's Royal Albert Docks into the city's third financial district. "London is renowned across the world for its history and culture," said Ni, who says he was tied to Britain through his English-educated daughters and love of British art. "This project is a-once-in-a-lifetime opportunity to bring its spirit back to life by recreating the Crystal Palace and restoring the park to its former glory," he said. The Chinese company, which says the project would create 2,000 jobs, is seeking to profit from its investment by drawing tourists and using the area to host international exhibitions. Residents of the surrounding area have rebuffed numerous development efforts in the past, including proposals to build a cinema, a new sports centre and housing developments. "It's being dressed up as a heritage project but there's not enough details, and the devil's in the details," said Amanda Sciberras, head of the Crystal Palace Residents' Association, who said the proposal appeared to be a commercial venture rather than a cultural one. (Editing by Robin Pomeroy) If you're attending one of the worlds top universities, chances are high you're an English-speaking student on a leafy campus in the United States or the United Kingdom. Christian Science Monitor Washington (AFP) – US President Barack Obama demanded an end to a three-day government shutdown he decried as a reckless "farce," piling pressure on Republicans Thursday to climb down first on a budget impasse. AFP Rep. Todd Rokita prefaced a response to CNN's Carol Costello during a debate over shutdown pay by praising her beauty. Yahoo News Columbus (AFP) – Steve Stricker saved par from an 18th-hole bunker to give the United States a 3 1/2-2 1/2 lead over the Internationals after Thursday's opening four-ball matches at the storm-hit Presidents Cup.