Fast-food Wages Come With A $7 Billion Side Of Public Assistance
That includes a majority of those workers who are employed at least 40 hours week. The study, Fast Food, Poverty Wages, was sponsored by the UC Berkeley Center for Labor Research and Education and the University of Illinois at Urbana-Champaign Department of Urban & Regional Planning, and funded by the labor group Fast Food Forward. The estimates were based on government data. A second study , by the pro-union National Employment Law Project, extended the analysis to individual companies, estimating that McDonalds workers received $1.2 billion in public assistance while the corporation netted $5.5 billion in Fiscal Year 2012 profits, and devoted $5.5 billion to dividends and stock buybacks. This is the public cost of low-wage jobs in America, write the authors of the BerkeleyUrbana-Champaign study. The cost is public because taxpayers bear it. Yet it remains hidden in national policy debates about poverty, employment and federal spending. A spokesperson for McDonalds declined last night to comment on the fast food campaign or the extent of fast food workers use of public assistance. A spokesperson for the fast food giant emailed in August that Our history is full of examples who worked their first job with McDonalds and went on to successful careers both within and outside of McDonalds. The National Restaurant Association did not immediately respond to a Monday afternoon inquiry. As Salon first reported , New York City fast food workers mounted an unprecedented strike last November, the first in a wave of work stoppages around the country that included a 60-city walkout in August each demanding a raise of $15 an hour and the chance to unionize without intimidation. Little Caesars worker Julio Wilson said before walking off the job that hed made my way through the fast food circuit, with stints at Burger King, Subway, Arbys and McDonalds, and theyre all the same. He told Salon that many fellow employees and their families need to be compensated to be able to live. Funding todays university report represents the fast food campaigns latest salvo against the growing, increasingly representative and virtually union-free fast food industry. The key player behind the national campaign has been the Service Employees International Union. Along with a series of one-day strikes, organizers have targeted fast food companies with media, political, and consumer pressure.
Half of fast food workers need public aid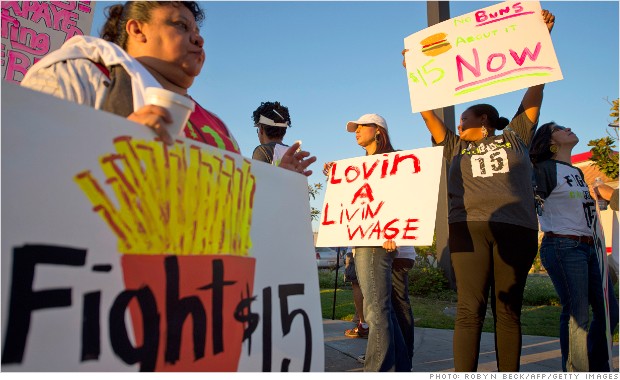 According to a University of California Berkeley Labor Center and University of Illinois study out Tuesday, 52% of families of fast food workers receive assistance from a public program like Medicaid, food stamps, the Earned Income Tax Credit and Temporary Assistance for Needy Families. That's compared to 25% of families in the workforce as a whole. The report estimated that this public aid carries a $7 billion price tag for taxpayers each year. The numbers are based on publicly available data on public assistance programs from 2007-2011. "Because pay is low and weekly work hours are limited, the families of more than half of the workers in the fast-food industry are unable to make ends meet," the report said. Related: The real budgets of McDonald's workers The data supports the claims that hundreds of fast food workers have been making across the country over the last year. Protests from New York City to Los Angeles, Memphis to Detroit have cropped up since last November , with workers calling for a minimum of $15 an hour and the right to organize without retaliation. The common narrative among fast food workers is that their pay is too low , they don't get scheduled for enough hours and they get no benefits. The new report fuels their fire, finding that only 13% of fast food workers get health benefits from their employers, compared to 59% of the workforce on the whole. It also said that the median worker only works 30 hours per week, compared to 40 for the rest of the workforce. How I live on fast-food wages A separate report out Tuesday slammed fast food giants for pushing their workers onto the public safety net. The National Employment Law Project said that the 10 largest fast food companies in the U.S.
When fast-food workers staged protests this summer to demand the federal minimum wage be raised from $7.25 to $15 an hour, even sympathetic observers werent optimistic about the prospects. There seems to be a ready supply of people who will work for low wages.And higher wages could lead to higher prices, which few so far seem willing to pay; my colleague Venessa Wong figured that if fast-food wages doubled and companies did not reduce other costs, the price of a Big Mac could increase by $1 to offset the increase. Two studies released today make some different calculations to determine the total cost to American taxpayers of a large, low-wage workforce. It comes to an average of $7 billiona year. Thats the amount of annual public assistance families of fast-food workers received between 2007 and 2011, according to a new report written byeconomist Sylvia Allegretto and others, sponsored by the University of California at Berkeleys Labor Center and the University of Illinois at Urbana-Champaign, and funded by Fast Food Forward, the group that helped organize the summers labor strikes. The authors used publicly available data. The report calls out the fast-food industry for its low wages, citing a median salary of $8.69 an hour and a history of offering part-time work. That might have been fine when those behind the counter were mostly teenagers living at home. These days, though, 68 percent of fast-food workers are single or married adults who arent in schooland 26 percent are raising children. Overall, 52 percent of families of fast-food workers are enrolled in one or morepublic assistance programs, compared with 25 percent of the workforce as a whole. Medicaid and the Childrens Health Insurance Program accounted for nearly $4 billion of the $7 billion figure. The Earned Income Tax Credit, food stamps, and the Temporary Assistance for Needy Families program accounted for the rest.Public benefits receipt is the rule, rather than the exception, for this workforce, the authors write. A second study, based on the data collected by Allegretto and her colleagues, names names.