Calif. Gov. Signs Bill Increasing Paparazzi Protection For Celebrity Children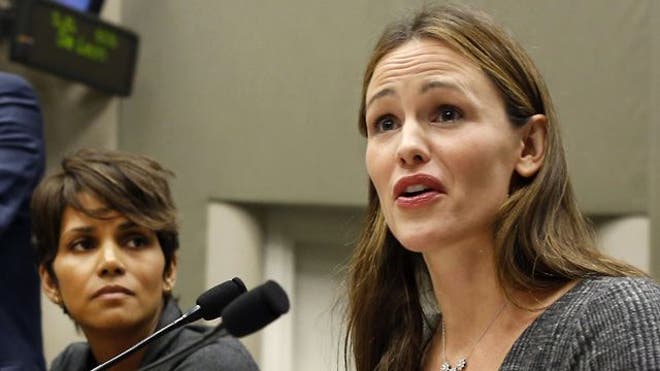 Gov. (AP Photo) SACRAMENTO, Calif. Paparazzi and others who harass the children of public figures will face tougher penalties under legislation that California Gov. Jerry Brown signed Tuesday. The bill from state Sen. Kevin de Leon, D-Los Angeles, will boost penalties for actions that include taking photos and video of a child without parental consent and in a harassing manner. Celebrities such as actresses Halle Berry and Jennifer Garner urged lawmakers to support SB606. Berry testified before several legislative committees that her daughter has been intimidated by photographers who follow them daily. She said the photographers often shout while they snap pictures. "On behalf of my children, it is my hope that this is the beginning of the end for those overly aggressive paparazzi whose outrageous conduct has caused so much trauma and emotional distress," Berry said in a statement released by her publicist. The measure also will help protect children of police officers and judges, and other kids who might be susceptible to harassment or unwanted attention due to their parents' occupations, de Leon said. Berry, who won an Academy Award for her role in "Monster's Ball," said she plans to work with other professionals whose children are affected by the statute to ensure local law enforcement officials will vigorously enforce the new provisions.
CELEBRITY BIRTHDAYS
And Hill was, of course, a close associate of Josiah Bartlet, the president played by Martin Sheen on The West Wing. X xxxxy xxxxxxy Paul McCartney doesnt really need the publicity, but when he desires it he sure can make a dent. On Monday he and his band shut down a stretch of Hollywood Boulevard to perform a handful of songs for a lucky few thousand as part of Jimmy Kimmel Live. Many in the crowd had been waiting much of the day for a chance to catch the ex-Beatle in action. McCartney was pushing his forthcoming album New by doing a few songs for TV, but stuck around for a set that included older songs fans wanted to hear. His list was full of big-ticket songs. He and his touring band tore through Beatles classics Hey Jude, Let It Be, Back in the USSR, Magical Mystery Tour, Birthday, Lady Madonna and more, and peppered in solo and Wings songs such as Band on the Run, Another Day, Jet and three new works, including the excellent title track. X xxxxy xxxxxxy Her licensed suspended, Dina Lohan left a suburban New York courthouse in a chauffeur-driven Rolls Royce on Tuesday after entering a not guilty plea on speeding and drunken driving charges. Lohan, 50, was surrounded by a media throng usually associated with her troubled actress daughter, Lindsay, as she left a Long Island courthouse following her arraignment. She was released without bail until her next court appearance Oct. 23. The only apparent family member accompanying Lohan to court was her mother, Ann Sullivan. Judge Joy Watson released Lohan without bail but ordered her drivers license suspended, citing the severity of the alleged drunken driving charge. State police arrested Lohan on Sept. 12 after stopping her for allegedly driving 77 mph in a 55 mph zone on a Long Island parkway.
Celebrity birthdays for the week of Sept. 29-Oct. 5
Singer Suzzy Roche of The Roches is 57. Comedian Andrew Dice Clay is 56. Singer-bassist Les Claypool of Primus is 50. Actress Jill Whelan (Love Boat) is 47. Bassist Brad Smith of Blind Melon is 45. Singer Devante Swing of Jodeci is 44. Actress Emily Lloyd is 43. Actress Natasha Gregson Wagner is 43. Actress Rachel Cronin (Ed) is 42. Guitarist Danick Dupelle of Emerson Drive is 40. Guitarist Josh Farro (Paramore) is 26. Actor Doug Brochu (Sonny With a Chance) is 23.
Celebrity Rehab's Dr. Drew Pinsky Reveals Prostate Cancer Diagnosis
Drew Pinsky recently found himself in that very role reversal over a very serious health matter. Best known for Celebrity Rehab and formerly MTVs Loveline, the board-certified internist and addiction medicine specialist revealed in an exclusive interview with People that he was diagnosed with prostate cancer two years ago. But wait the rest of the news is good! Today, Dr. Drew is cancer free. And just in case you were worried that the good doctors diagnosis affected his sex life with wife Susan, please let us assuage your fears. "The erectile function is normal, sex drive is normal, bladder works normally. And I don't have to worry about prostate cancer." Phew! But seriously, were glad to hear Dr. Drew is in the clear. He credits not only the great doctors with whom he entrusted his care, but also his wife, who was there to gently nag him along the way toward good health.