Battle Of The Babes! Selena Gomez And Chrissy Teigen Go Head-to-head In Vera Wang
Selena Gomez's Severe Ponytail — Get Her Rocker Look
Selena Gomez And Chrissy Teigen Go Head-To-Head In Vera Wang Both women are fans of the American designer, but who had the edge? Tweet They both ooze class and have excess sex appeal, so it was only some time before Selena Gomez and Chrissy Teigen were spotted rocking the same frock, right? The two ladies seem to be the newest fans of Vera Wang's gorgeous patterned mini dress both sporting the designer gown within weeks of one another. Chrissy Teigen last night and Selena Gomez last month (Alberto Reyes/TRY CW/WENN) We have to give credit to Selena when it's due. The Spring Breakers actress was first to don the stunning gown last month at the Los Angeles premiere of her new movie with Ethan Hawke, Getaway. Opting for a classic version of the dress, the 20-year-old beauty wore the item in a shift dress form with a daring sheer-panelled neckline. While model Chrissy opted for a funkier version of the gown wearing a one-shouldered creation by the American designer at The REALvolutionary Awards in New York on Thursday night. While, we're at loggerheads as to which beauty pulled off the frock best, we have to admit Chrissy's mean set of pins tipped the balance for us somewhat. Only a teensy bit, Selena. MTV VMAs 2013: Selena Gomez, Daft Punk, Katy Perry, Ellie Goulding & Niall Horan Walk The Red Carpet Ellie Goulding at the 2013 MTV VMAs (Wenn) 1 of 20
Get her rocker pony below! Selena Gomez looks great on stage no matter her beauty look, but we are huge fans of her newest look. The singer wore a tight pony on stage atLe Zenith in Paris, France on September 5.The severe ponytail is easy to do at home well help you below! Selena Gomezs Ponytail Get Her Slick Look To get a sexy look like Selena, youll need a wonder product like Aussies Miraculously Smooth Tizz No Frizz Gel . The gel provides flexible hold so your pony can move, but will give you the hold you want on the top of your head. To use, apply a dime sized amount of gel into your hands and rub your palms together. Work evenly through damp hair. Blow dry and straighten as you normally would. Once hair is dry, flip your head upside down. Brush your hair tight into a ponytail and secure with a hair band, like a Goody Ouchless Elastic. Heres a pro beauty tip for you apply gel to a toothbrush and gently run it over the top of your head to smooth and seal hair. Youll be totally frizz-free and have an awesome look just like Selena!
Selena Gomez: You are the company you keep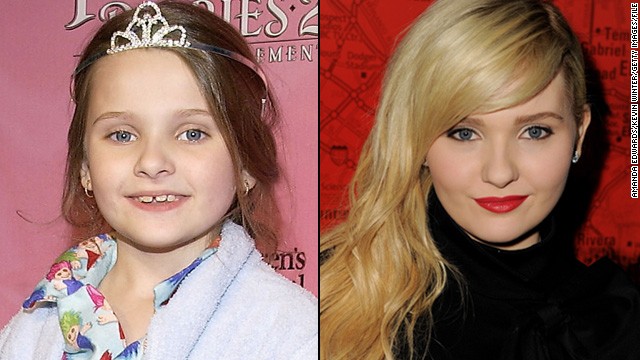 This year, the 24-year-old is appearing in more adult projects, such as "Spring Breakers" and "Machete Kills." It's still hard to believe that Rudy Huxtable is now 34 years old. Keshia Knight Pulliam, the actress who played Rudy on "The Cosby Show" from 1984 to 1992, grew up on TV but acted sporadically since then. This year, she took a dive into reality TV with ABC's competitive diving show, "Splash." Macaulay Culkin turned a scream and an exaggerated expression into a blockbuster movie franchise when he starred in 1990's "Home Alone" at the age of 10. He went on to co-star with in 1991's "My Girl," but has in later years not been a huge fan of being on camera. In April, he ripped into paparazzi in the UK for trying to take his photo. Along with Knight Pulliam, Raven-Symone is one of the most recognizable child stars, thanks to her work on the long-running "Cosby Show" and her subsequent career on the Disney Channel. The actress has been in the business since the age of 3, and most recently appeared on ABC Family's "State of Georgia." "Mad Men" fans have watched Kiernan Shipka grow up as Sally, the daughter of protagonist Don Draper. Having starred on the series since she was 7, Shipka's gone from being a little ballerina with a lisp to a teen girl with enviable poise over the series' six seasons. One minute, Abigail Breslin was a 10-year-old "Little Miss Sunshine," and the next thing we know, she's flashing her bra in 2011's "New Year's Eve." The now 17-year-old is grownup enough to take on the older sister role, as she will in the November release, "Ender's Game." Along with Vanessa Hudgens, Zac Efron was just a teen when he became famous with Disney's "High School Musical." Now 25, Efron caters to audiences well past high school, such as his turn in Lee Daniels' 2012 film, "The Paperboy." Mary-Kate and Ashley Olsen have been in the entertainment industry since they were literally in diapers — the pair took turns playing the youngest daughter of the Tanner clan, Michelle, on "Full House" from 1987 to 1995. They went on to star in their own movies, but these days the twins are better known for their fashion lines, Elizabeth and James and The Row. Best known for his role as Renee Zellweger's cute-beyond-words son in 1996's "Jerry Maguire," Jonathan Lipnicki is now old enough to play Zellweger's love interest. According to IMDb, the 22-year-old has a dramatic film arriving this year starring Christopher Mintz-Plasse called "Tag." Chloe Grace Moretz was a "Kick-Ass" actress even as a kid, starring in movies like "The Amityville Horror" at age 8. Now 16, Moretz has ditched the Shirley Temple curls but not her action moves — the star will appear in the sequel to 2010's "Kick-Ass" this August.